17 September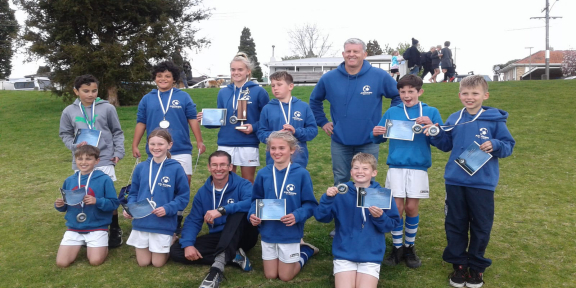 Awakeri Raptors took away the Fair Play trophy and medals from the Blue Rovers tournament. They were selected by the refs for their excellent sportsmanship.
Back row: Talan Kennedy, Ari Henman, Rhianna Rowe, Kalani Robinson, Mark Somerville, Kieran Robinson, Tejay Robinson.
Front: Barclay Fort, Rhiane Byers, Blair Robinson, Milan Laurent, Ryan Somerville. Absent: Cullen Brown.
15 September A great day for our break up, sunny, a good turn out, some very fun games between parents and kids, lots of food, thoughtful words said, awards made... have a look at our Honours Board to see who got the Sportsmanship trophies, if you weren't there (or if you want to see past winners' names).
Raptors coach Blair Robinson explained about the competition they were up aganst in the tournament yesterday. Rep squad teams that were selected from eleven teams in one case, or seven teams in another club they faced. Raptors held their own extremely well.
Retiring president Barrie Hawkes says a huge thankyou for the very generous gift, special trophy and all the kind messages given at what was his last break up day.
14 September Hopefully we have a big turn out at our breakup day tomorrow. Games against the parents from 10am, prize giving at 11.15am, shared lunch after that.
Today Awakeri Raptors were in an 11th grade tournament run by Tauranga Blue Rovers. They did very well, coming seventh and getting into the plate final. They also won the fair play trophy. Well done Raptors!
1 September Final games of the season. 11th grade Raptors finished with a good win, to confirm second spot in their grade. 9th grade Athletic and 8th grade Phoenix were the only other teams in action. The report.
25 August Last games of the season for several age groups. Awakeri Raptors lost their unbeaten record in a top of the 11th grade table game with Whakatane Sharks. Ninjas ended their 13th grade season in second place. Fun in the mud as the junior framework had its last games. A Fergus Rowe hat trick helped Mustangs to their 11th win of the season. Here's the report.
18 August Ninjas lost the 13th grade clash with Foxy Feet, with star striker Ben Peat laid low with sickness. Raptors continue their unbeaten season, Magic trounced Edgecumbe and Mustangs won a nailbiter in the 9th grade. Read the report.
News from our club meeting: Our club break up day is Sunday 15th September, 10am start. Brigette Davidson will take over running the club with Barrie Hawkes stepping back.
13 August The 11th grade has been split into three sections for the last three weeks of the season.
This Saturday Raptors play Ohope Makos at Awakeri at 9am.
This Saturday Magic play Plains Wanderers at Edgecumbe at 9am.
12 August End of season meeting this Sunday (18th) at 6pm at school. All welcome, coaches please attend. It is also our AGM.
Agenda: Break up day, awards, the season, the future.
11 August Our three leading teams kept their noses in front yesterday. Some very exciting games. Read the reports. Watch out for an end of season meeting for coaches coming soon. The club break up and prize giving will be a main point of discussion.
4 August Lots of wins yesterday, with Ninjas, Raptors and Mustangs all staying on top of their tables. Some thrillingly close games too. Here's the report. Cody Parson scored a second half hat trick in the 13th grade to earn Ninjas another win.
28 July Some great games back from the holidays yesterday, including a 13th grade top of the table clash, an 11th grade derby, a last minute goal in the 9th grade and fun in the young grades. Here's the report.
7 July Here is the report. There were no less than nine hat tricks scored (Cody Parsons, Arran Dominick, Addison Whiteman, Joe Ferguson, Braxton Yardley, Tobias Hoffman (2) and Jude Sweeney (2))! Awakeri Mustangs had their first loss of the season in the 9th grade.
Happy holidays everyone!
6 July A fun muddy day at the football today. Here are the 6th grade Awakeri Rovers: The reports from todays football are coming. After that we have two weeks of holidays, so no football.
4 July Awakeri Ninjas have made it into the top division of 13th grade, well done! This Saturday they play Opotiki at home at 9.30am. The other two teams in division one are the Foxy Feet and Ohope.
Enjoy the last Saturday football before the two week break everyone.
29 June The usual mix of good wins and well fought losses. Good to see Ninjas lending strong players to help out their opposition. Brad Yuill scored for Tarawera. It sounds like the 13th grade is going to be split into two this week. Read the report.
Have a look at some photos here from 15 June - Ninjas and Mustangs.
22 June Some great results and a couple of hat tricks - Joe Ferguson, Jude Sweeney. Very disappointing to read the Beacon report from Foxy Feet that they had avoided a "humiliating loss" to Awakeri last week. Would it have been humiliating because Awakeri Ninjas are a terrible team (wrong!), because they have four girls on the field at all times (true), or because Foxy Feet think they are too good to lose to anyone? Hopefully the choice of that word was just a tactless mistake. Read this week's report.
16 June Some fantastic football yesterday, including an epic battle in the 13th grade, Ninjas lost 5 - 4 to Foxy Feet and deserved better! Some spectacular goals, hat tricks (Fergus Rowe in the 9th grade, Josh Jennings 7th gr, Kyan Krause, Jude Sweeney and Corbin James 6th gr). Read the report.
9 June Football was back on yesterday. Yay! The usual variety of results. Cody Parsons and Ben Peat scored hat tricks in the 13th grade. Rascals won both their 7th grade games despite only having three players. Mylee Mathews scored all her teams goals in the 6th grade. A derby in the 9th grade. Here's the report.
28 May No junior football this weekend, thanks to the Queen's Birthday. If you still want to see football, come to the Edgecumbe Domain on Saturday at 2.30pm. Plains Rangers are playing Otumoetai Legends. On Sky TV at the moment, the FIFA Under 20 World Cup is great watching. Two super wins to New Zealand. Their next game is another tough one, against Uruguay on Friday morning at 4am. You can see highlights of all the games on the FIFA website.
26 May Quite a few wins, some very high scoring games (e.g. 10 - 6 in the 13th grade). Hat tricks to Ben Peat, Jude Sweeney, Joshua Spalding and a couple of teams had their first wins for the seeason. Read the report.
20 May A couple of good wins, a hard earned draw and a twelve goal thriller were all part of Saturday's games this week. There were lots of Awakeri match ups in the 6th grade too. Read the report.
13 May Some great results in our first round of league games on Saturday. A couple of hat tricks in the youngest age groups. Click here to read the report.
5 May It looked like most teams had a great start to the season with their games at Bay Day today. Reports in from three teams:
Awakeri Athletic had a great day in the 9th grade at Bayday, managing a draw 1 all, goal scored by Joshua Spalding and 2 near losses, going down 0-1 in both. Player of the day went to Blake Heath for an outstanding performance as goalie.
Awesome first games of the year for Awakeri Rovers in the 6th grade. The team all played well together with a special mention to Logan for scoring the majority of goals and to Scarlett for some great tackles. First round against Ohope Snappers with Awakeri Rovers taking the win 4-1. Second round against Kawerau Comets again Awakeri claiming victory 6-1. Round 3 was a lot tougher and although we played a good game the Kawerau United Team outplayed us 6-0.
In round 1, 11th grade Awakeri Magic played Whakatane Mako, results being Awakeri 1 - Mako 0. The only goal of the game scored by Arran Dominick. Round 2 saw them play Whakatane Sharks. This side being possibly slightly older than some of our kids. They played well and unfortunately dominated Awakeri. Score being Awakeri 0 - Sharks 5. Round 3, they played Ohope Mako with a nil all draw as final score. Round 4, was against Opotiki Magpies, resulting in another draw of 1 all. Awakeri's goal for the game being scored by Jayden Grindrod. Regardless of the scores, a fun morning out was had by all the team and our great crowd of supporting parents.
The draws for the coming season have been published on the Waibop web site (apart from the 9th grade one which doesn't appear to be working). Check out where and when your team is playing this Saturday.

29 April The season is only 5 days away! I hope you're kicking a ball and getting excited! Have you got your boots, socks, shin pads and shorts ready?
Bay Day tournament is on Saturday, 4 May at Rex Morpeth Park Whakatane. For grades 8th to 13th, the start time is 9am, be there 8.30am to find your team and coach. The 6th grade starts at 10am at the athletics park next door. Be there 9.30am to find your coach and team!
9 April For people trying to find our socks, usually Stirling Sports stocks them. While most teams are now full, we will happily accept extra players who are aged 9 or 10 and some 11 year olds. Please contact Barrie if you are interested.
4 April Team lists have been given out at school today to most players. If you haven't got yours, see Barrie Hawkes at school.
27 March We have entered twelve teams into this year's competitions, from 6th grade to 13th grade.
Club Meeting this Sunday at school, at 7pm. Agenda – discuss the entry of teams in this year's competitions, the make-up of the teams, appoint coaches, general business.
All welcome. People who would like to help coach, co-coach or manage teams please attend.
Barrie Hawkes mobile 0274637791

23 February Here is the link to enrol for football this year (opens in new tab).
If you are a new player, choose Sign Up.
If you played last year, you might still have your MyComet username and password.
Login and register again for one of Awakeri's teams. If you have lost your username and password, click on forgotmyusername, or if you have changed your email address, or have trouble, please email registrations@nzfootball.co.nz to get your password.
Enrolments can also be done on Saturday 9 March at Awakeri School 10 am till 11am, using school computers.
Step by step: When you have your username, login. 1. Select Register. 2. Select Awakeri SC as the seller. 3. Select the age group. 4. Click on the green shopping trolley icon. 5. Scroll down to Proceed to Checkout. 6. Agree to the terms. 7. Click on Finish. 8. You should receive an email to confirm that you are registered. If not, try again! 9. Please pay your fees… read on…
Fees must be paid to our club separate to registration. They can be paid by internet banking, our number is 11 6189 0421649 11. Please reference to your child's name. Otherwise you can pay by cash or cheque at the school, with the slip on the enrolment form that was handed out at school.
Age Groups: 6th grade (i.e. under 6 years on 1st January), 7th, 8th, 9th, 11th, 13th grades. Soccer is open to boys and girls.
Fees $60.00 for each player with $120.00 family maximum.
Please register and pay soon, we have to enter teams in mid March.
21 February 2019 Long time, no update! Happy New Year! Registrations for the new junior football season are coming soon. Unfortunately fees have had to rise by $10 a player, because the Federation has charged us that increase. Watch out for notices being given out at school, possibly on Monday, on how to register. Anyone interested in coaching or assisting please contact Barrie. Anyone interested in playing senior (adult) football, visit our senior club (Plains Rangers) website, or contact Barrie.
Football Fun Day next Sunday 3rd March!!
What: Kids will be put into teams and will play mini games
Who: Girls and boys 5 to 13 years old
Where: Rex Morpeth Park in Whakatane
Date: Sunday 3rd March
Time: 11am until 12.30pm
Who: Former football players and friends keen to play during the 2019 season
There is no charge for this fun day. The kick wall will be available, and you can win some prizes such as balls and drink bottles.
Registration for this fun day is via the online link below:
https://www.cognitoforms.com/WaibopFootball/FootballFunDayEasternBayOfPlenty